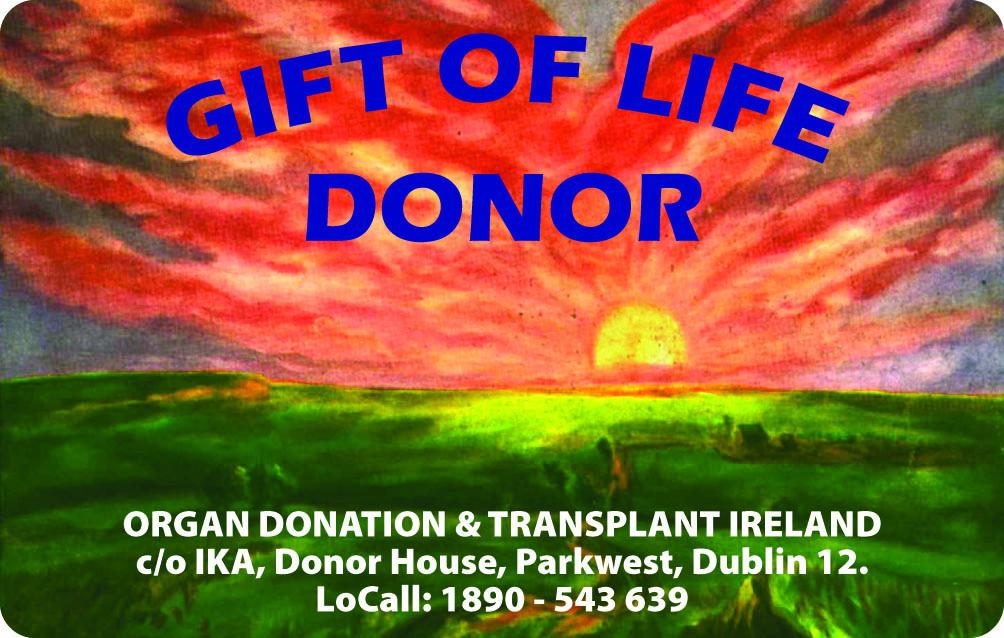 This week is Organ Donor Awareness Week 2016 which runs from April 2nd to 9th.  There are approximately 700 people in Ireland awaiting life-saving heart, lung, liver, kidney and pancreas transplants. Thanks to the gift of organ donation over 3,000 people in Ireland have been given a new lease of life.  
In 2015, 266 organs were transplanted.  A total of 233 were as a result of the generosity of the families of 81 deceased donors and the remaining 33 were from living kidney donors.  St. Vincent's Hospital conducted 61 liver transplants, the Mater Hospital conducted a record 36 lung transplants as well as 16 heart transplants, and Beaumont Hospital carried out 153 kidney transplants (including 33 from living donors).
The focus of Organ Donor Awareness Week is to raise awareness about the ever increasing demand for organ transplantation which relies on the public for organ donation.  The key message is that families need to discuss organ donation and keep their willingness to donate visible by carrying the organ donor card, downloading the Smartphone App and permitting Code 115 to be included on their driver's license.
The Irish Kidney Association is the national organisation charged with the promotion and distribution of the organ donor card in Ireland, on behalf of Organ Donation Transplant Ireland.  Free information fact files, which accompany organ donor cards, are obtainable from the Irish Kidney Association (www.ika.ie) and are available nationwide from pharmacies, GP surgeries and Citizen Information Offices etc.
Organ Donor Cards can also be obtained by phoning the Irish Kidney Association (LoCall 1890 543639 or Freetext the word DONOR to 50050).  It is also now possible to store an organ donor card, the 'ecard' on smartphones. Simply search for 'Donor ECard' in the iPhone Store or Android Market Place.
In conjunction with Organ Donor Awareness Week there was an excellent interview with Leigh Bagnall, cystic fibrosis patient and lung transplant recipient, and Karen Redmond consultant lung transplant surgeon in the Mater Hospital on RTE News this week which can be watched here.  Ms. Redmond was a guest speaker at the Annual Alpha-1 Conference in October 2015.