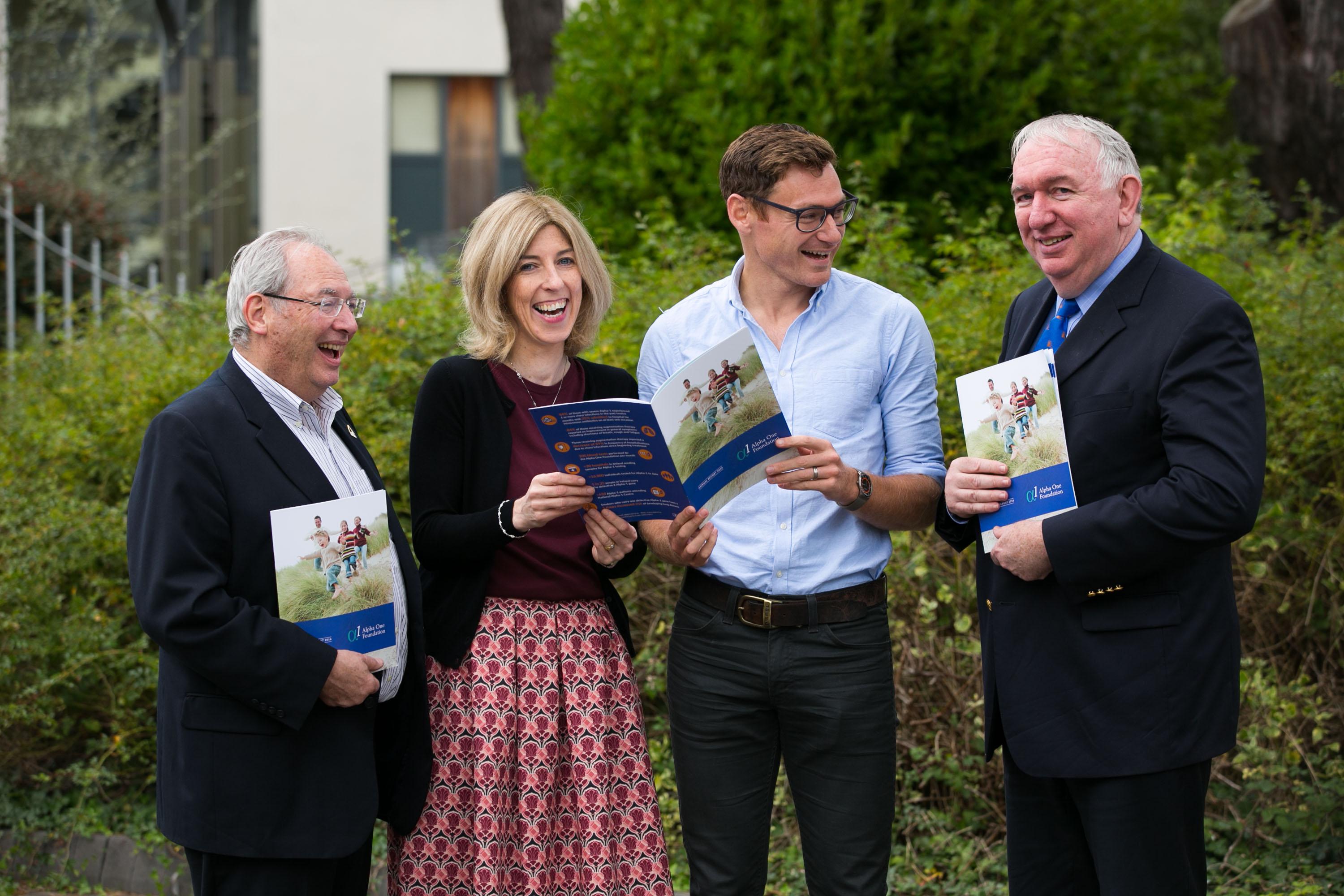 The Annual Alpha-1 Patient Conference took place again this year in the Marino Institute of Education in Drumcondra in Dublin last Friday October 7th. Over 90 Alphas and family members attended what was our largest conference to date. It was great to see so many familiar faces but also a lot of first time attendees.  Tea, coffee and scones were a welcome start to the morning, particularly for those who had risen early and travelled long distances to attend.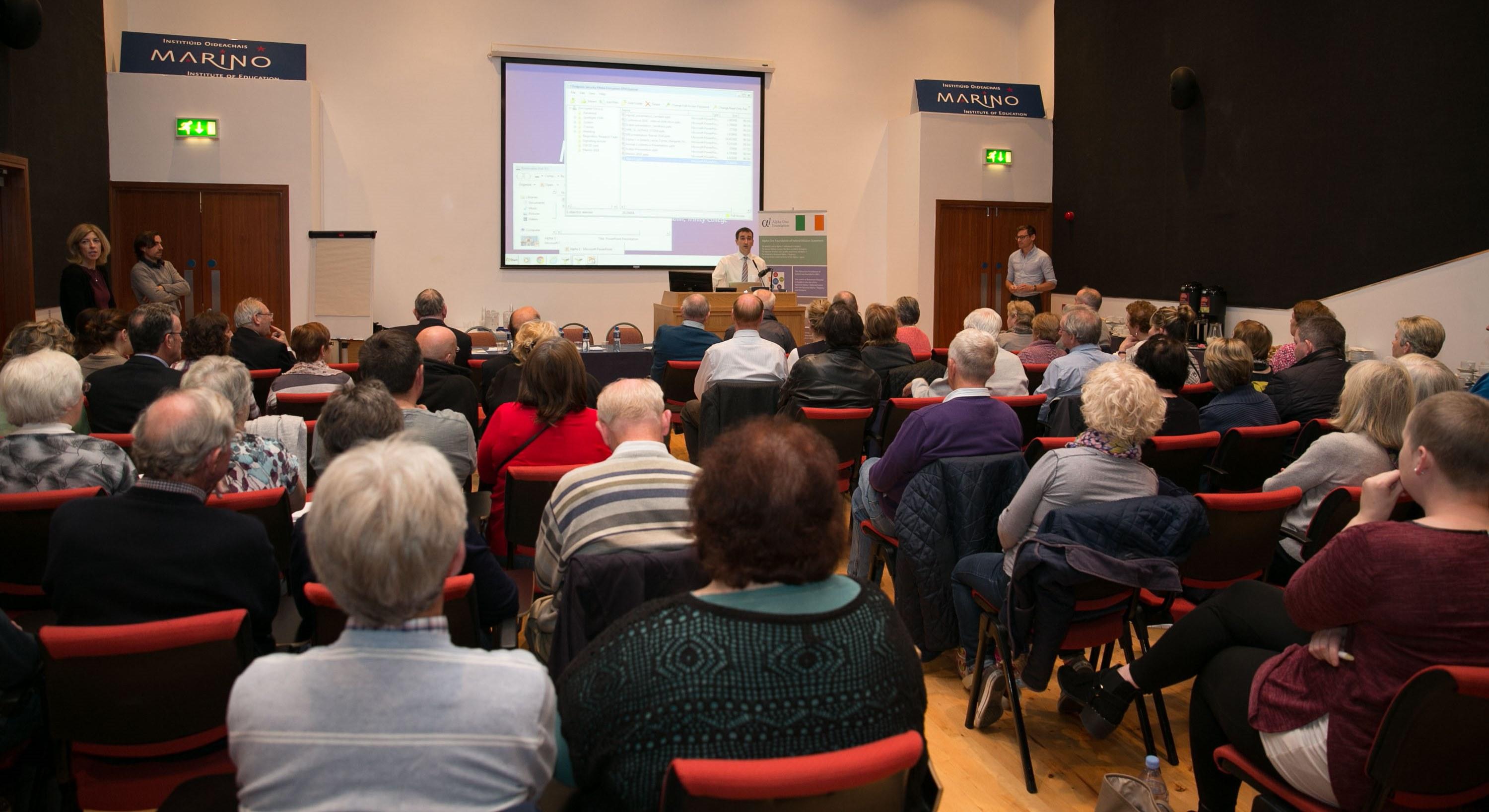 After refreshments, the conference was officially opened by David Gillick, Olympian and successful 400m track athlete.  David gave a great insight into the highs and lows of top level athletics.  Asking the audience to tap their feet and to imagine they were running a virtual 400m sprint in 44 seconds, David explained this was his major goal throughout his career, and how 1 second in his event could mean a difference of 20 metres.  He talked about his breakthrough season in 2005 when he won gold at the European Indoor Championships, and how it made him realise that "Irish" and "sprinter" were two words that could be used together.  His first major medal gave him the confidence to compete at the highest level and helped to dispel many negative thoughts.  After a glittering career, where he won more medals and became an Olympian, David spoke about how unprepared he was for life after athletics.  Feeling lost and missing the structure of training, he became depressed and after seeking help he began to develop the skills to cope.  Importantly, David also highlighted how important exercise is for general health and wellbeing.  No matter what age or ability, any exercise is better than none.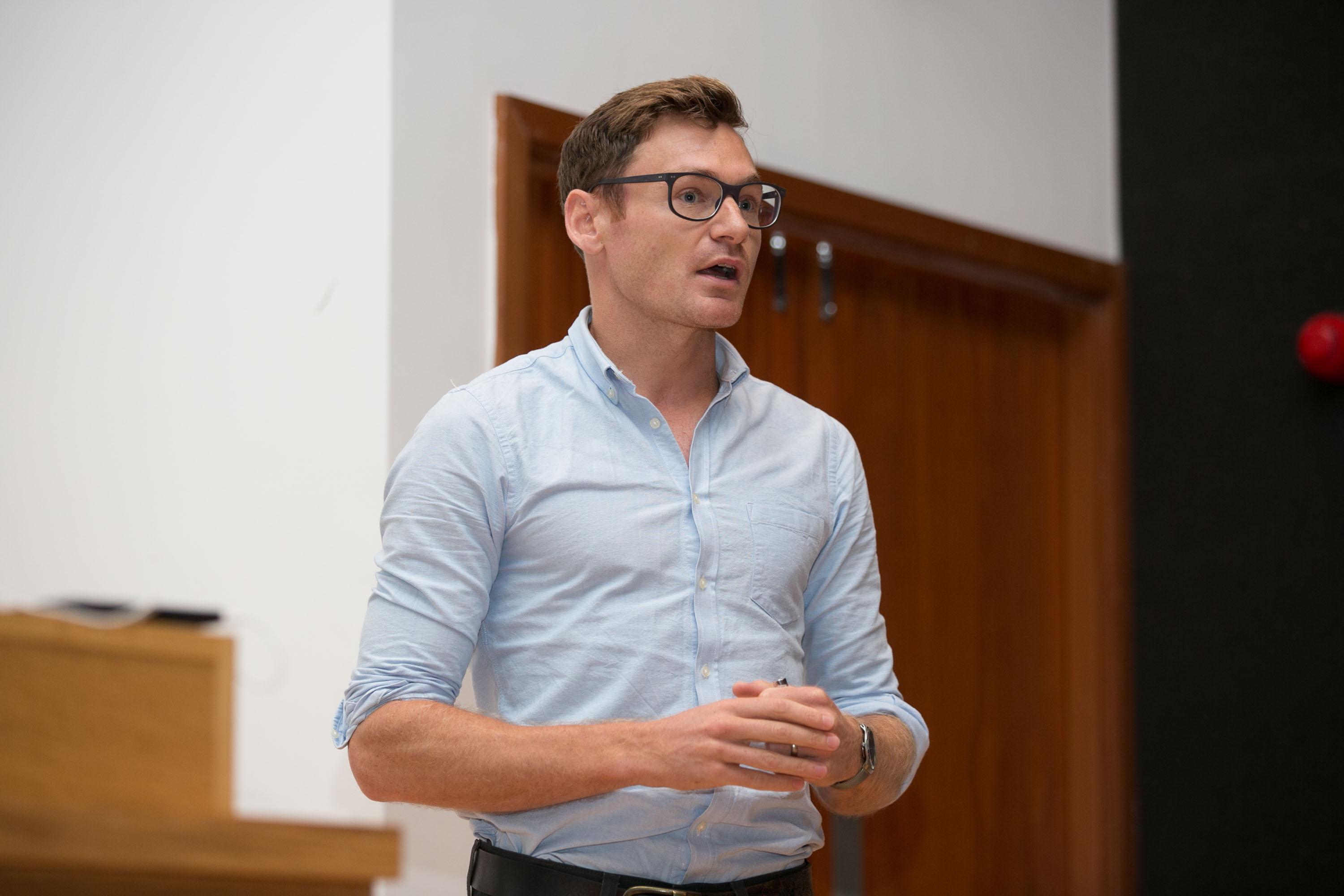 David Gillick speaking at the conference
Our second guest speaker was Medical Director of the US Alpha-1 Foundation Professor Robert "Sandy" Sandhaus who had arrived at 8am that morning from Denver, Colorado.  Showing no signs of fatigue, Sandy gave a historical perspective on alpha-1 antitrypsin deficiency since the condition was first discovered in Sweden in 1963.  He discussed how breakthroughs were made by studying families with emphysema and unexplained cirrhosis.  Sandy described what the alpha-1 antitrypsin protein does in the body, and how the lack of this protective protein can lead to lung problems, especially in those who smoke. Sandy also explained how augmentation therapy was developed and first used in the US after the FDA approved the treatment over 25 years ago.  He paid tribute to the strong patient groups in particular the US Alpha-1 Foundation who have driven the major research, awareness, and detection efforts in the US.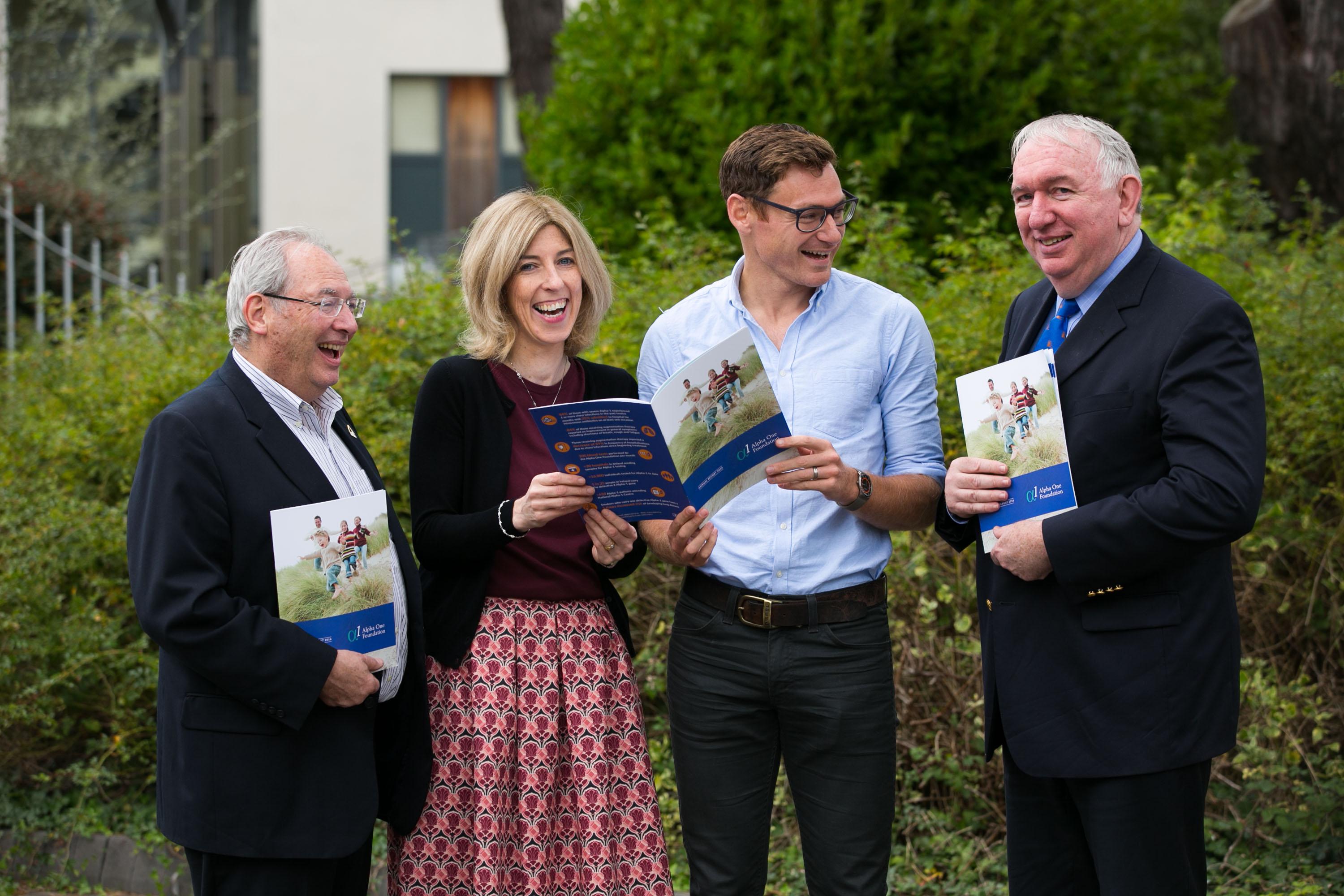 Professor Sandaus, Kitty O'Connor, David Gillick and Professor McElvaney
Next speaker was Professor Gerry McElvaney who gave an excellent synopsis of current and future clinical research into Alpha-1 including the positive results of the recently completed RAPID study.  This study, which involved 28 centres in 13 countries including 22 Irish Alphas, assessed the efficacy and safety of augmentation therapy for the treatment of emphysema caused by severe Alpha-1.  The results of this study have conclusively shown that weekly infusions of purified alpha-1 antitrypsin protein slow down emphysema progression.  Unfortunately, this is an expensive therapy and we await the decision of a cost benefit assessment by government bodies before it is made freely available for Irish Alphas. The Alpha One Foundation has made a patient group submission on behalf of the Alpha-1 community in Ireland and more details can be found in Section 5 of our Annual Report 2016.  A big thank you to those who participated in this survey.  Professor McElvaney discussed other new treatments including aerosolised alpha-1 antitrypsin to treat lung disease and RNA interference drugs to treat liver disease in Alpha-1. For those interested in new liver treatments, please check out our Annual Report 2016 for details of a new clinical trial starting in early 2017 which hopes to recruit liver-affected Alphas.
Dr. Tomás Carroll, Laura Fee and Margaret Molloy next spoke about the day to day activities of the Alpha One Foundation. Tomás discussed Alpha-1 itself, how it is caused, and how the Alpha One Foundation provides a free test for Alpha-1 as part of the National Alpha-1 Targeted Detection Programme which is funded by the HSE.  Over 200 people are being tested for Alpha-1 every month by our laboratory.  If someone is diagnosed with Alpha-1, we send the lab result and a cover letter to the requesting doctor which clearly explains the result along with details of the specialist Alpha-1 clinic in Beaumont Hospital run by Professor McElvaney.  Laura next outlined a variety of other activities including awareness and health promotion initiatives, partnerships with other organisations such as COPD Support Ireland and the Irish Lung Health Alliance, our Annual Report and its importance, and how people can find out more information on Alpha-1 (www.alpha1.ie,  Facebook, etc.).  Laura highlighted that to raise Alpha-1 awareness we target hospital laboratories, doctors and nurses, the public and finally patient support groups, for example local COPD support groups (see www.copd.ie to find your local group).  Targeting these groups involves presenting about Alpha-1 at various hospital meetings, medical conferences, and patient meetings.  Finally, Laura discussed the importance of fundraising, thanked those involved, and detailed the important equipment for Alpha-1 testing this has allowed us to buy.  Margaret then took over to explain the importance of the National Alpha-1 Registry which is hosted by the Alpha One Foundation.  The registry is a confidential database of people with Alpha-1.  The registry collects a variety of medical information, and this information is used to increase our knowledge of Alpha-1.  The more we learn about Alpha-1, the more chance there is of better treatments and improved outcomes for those diagnosed with the condition.  The registry is also an important tool to identify people who might be suitable to receive a new drug as part of a clinical trial.  Margaret highlighted the registry re-development project which she is leading.  Our new improved registry will be launched in early 2017.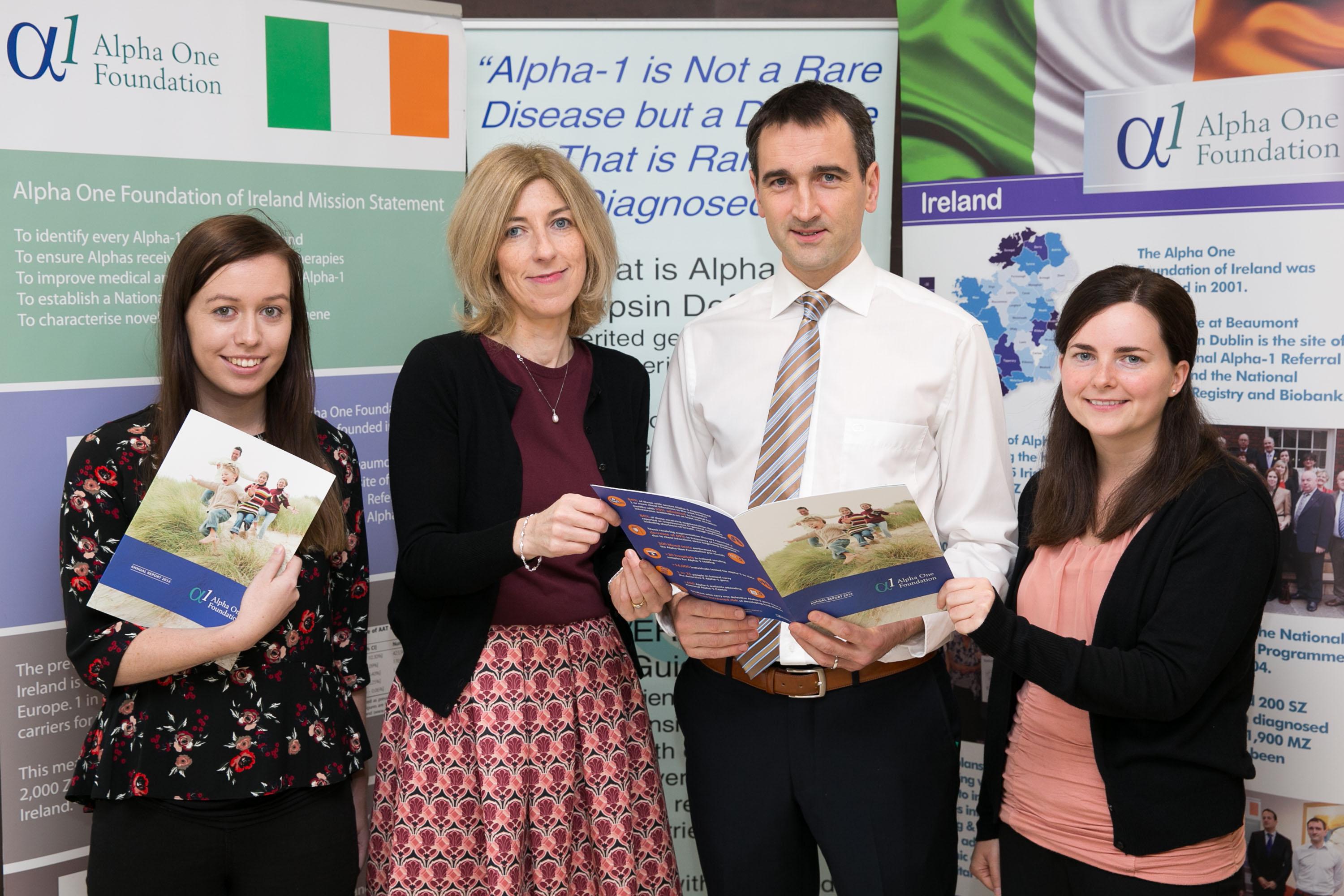 Laura Fee, Kitty O'Connor, Tomás Carroll and Margaret Molloy
After a welcome coffee break, Dr. Emer Reeves gave an excellent synopsis of current research into Alpha-1 carried out by Professor McElvaney's group. She spoke about how research into Alpha-1 adds to our understanding of the condition and leads to new treatments, and the vital role that Alpha-1 patients play in all research. Emer introduced three MD students who presented their Alpha-1 research projects in short 3 minute summaries designed for a non-scientific audience.  Dr. Pádraig Hawkins discussed how he is studying the white blood cell called the neutrophil, crucial for fighting infection, and how it behaves in people with Alpha-1.  Dr. Tom McEnery then explained how he is looking at the effect of augmentation therapy on the neutrophil.  Finally, Dr. Oliver McElvaney discussed his project which is examining immune responses in lung transplant recipients.  This was followed by a lively question and answer session.  The best research comes from a partnership between patients, doctors, nurses, and scientists, and Emer, Pádraig, Tom, and Oliver thanked patients for their willingness to participate in research.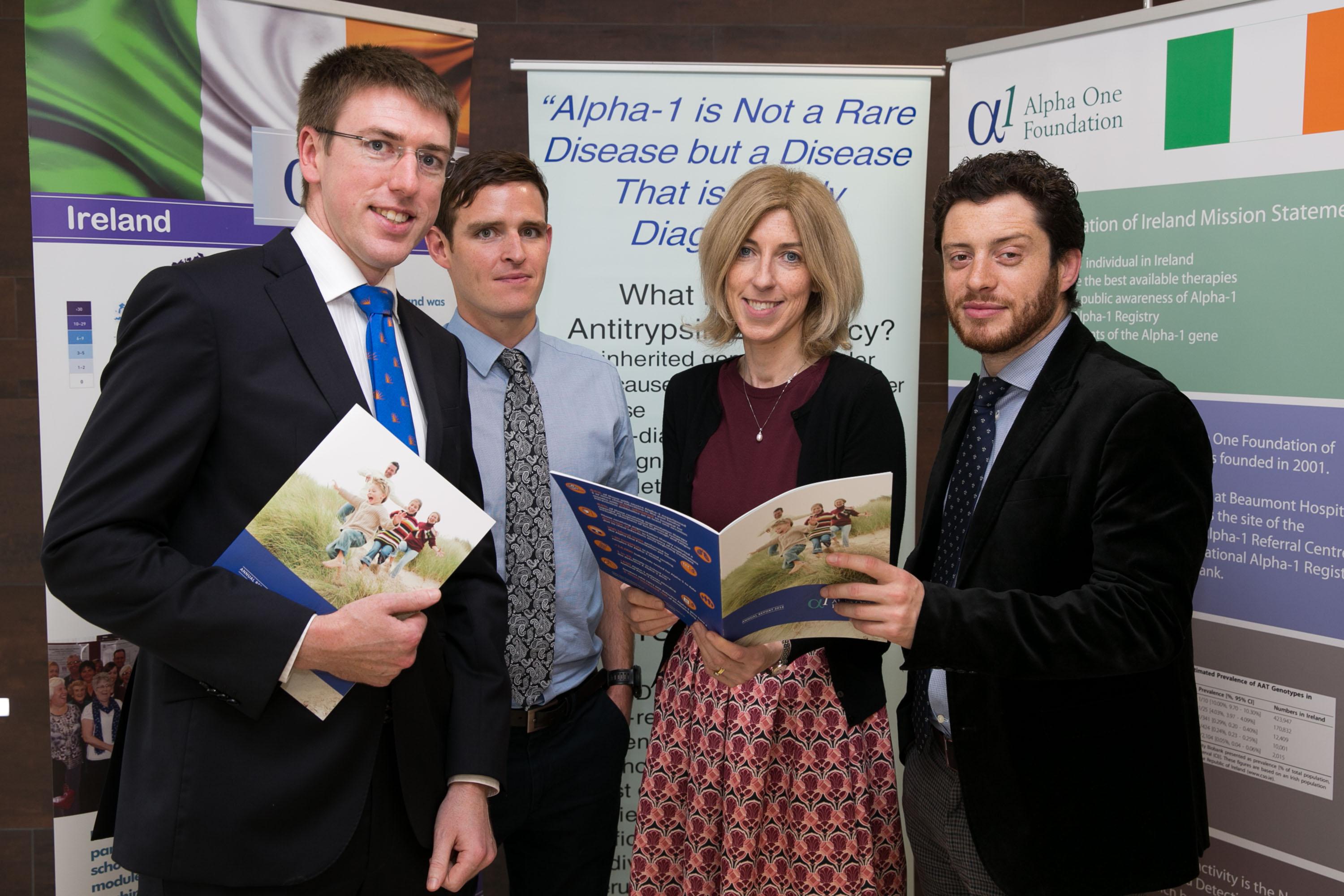 Dr Oliver McElvaney, Dr Tom McEnery, Kitty O'Connor and Dr Alex Franciosi
Next to speak was Dr. Alex Franciosi, MD student who explained his own research on SZ alpha-1 antitrypsin deficiency.  There are an estimated 12,000 people on the island of Ireland who are SZ, and so far 240 have been detected.  The SZ Alpha-1 group are not as well investigated compared to ZZ Alpha-1.  There is some controversy surrounding the precise risk of lung and liver problems in the SZ group, and Alex will study families with at least one SZ member to better understand the risk of health problems for this type of Alpha-1.  This is a project funded by the US Alpha-1 Foundation and if anyone who is SZ AATD wants to find out more please contact Alex on alessandrofranciosi@rcsi.ie.
The final talk before lunch was from Debby Lambert who is an information scientist and genetic counsellor with the National Rare Disease Office.  Debby described how prevalent rare conditions are in Ireland, the role of the National Rare Disease Office, and ORPHANET which is an online resource of expert centres around Europe.  Finally, Debby congratulated Professor McElvaney and the Alpha One Foundation team for achieving national recognition from the Department of Health as a National Centre of Expertise for Alpha-1. 
After an enjoyable lunch Dr. Graham Love, head of the Health Research Board (HRB) spoke about new initiatives to get both the public and patients more involved in every level of research.  The HRB funds hundreds of thousands of euro of health research every year.  The new attempt to incorporate the public-patient voice is a huge change in how research is funded.  Graham remarked that his team are learning to crawl before they can walk in this area, but they are fully committed to placing the patient voice at the centre of their activities.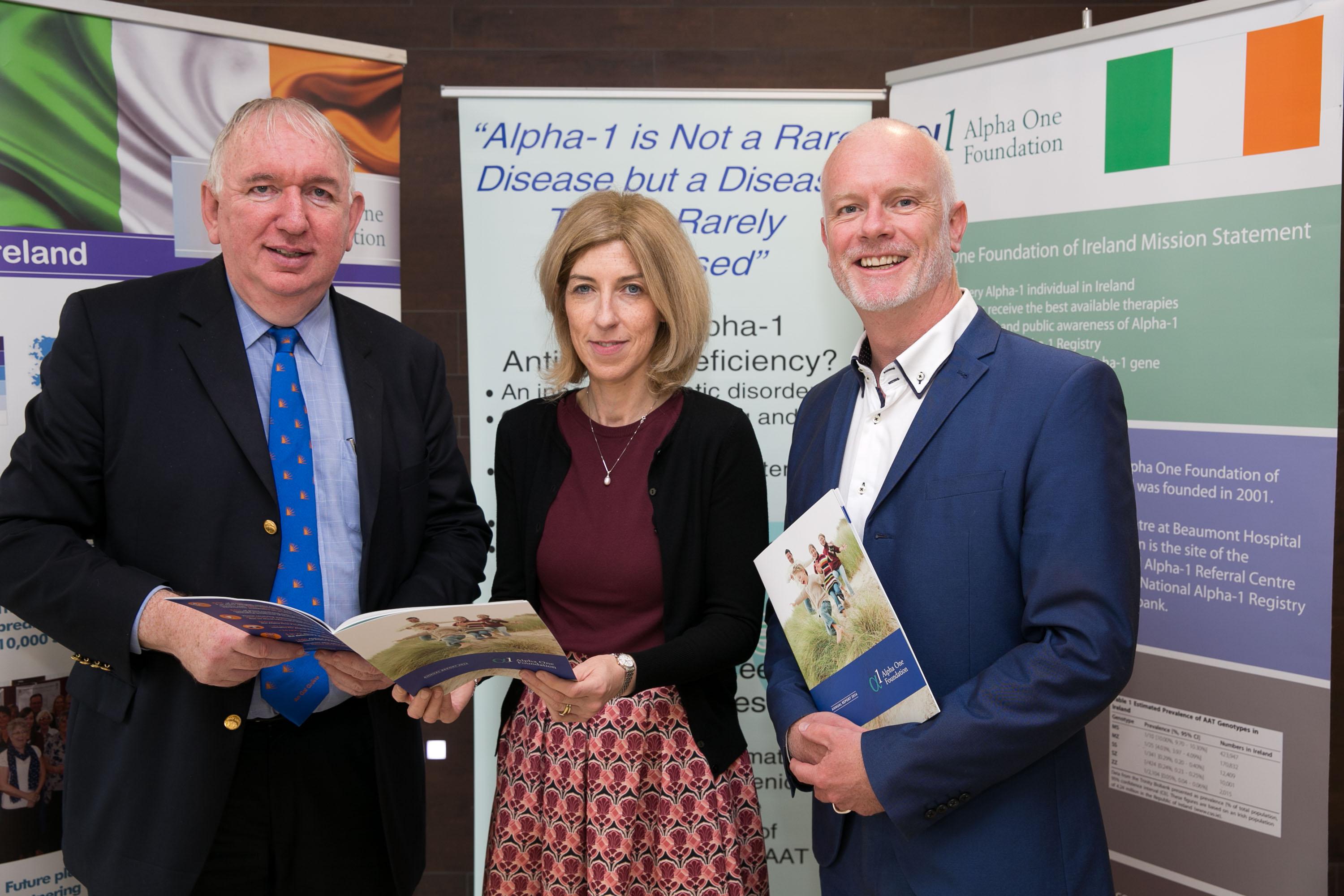 Professor McElvaney, Kitty O'Connor, Dr Graham Love
The premiere of a HRB-funded educational film was next on the agenda.  This film would not have been possible without funding from the HRB Knowledge Exchange and Dissemination Scheme and was appropriately launched by Dr. Graham Love.  The Alpha One Foundation applied for funding under this scheme to tell the story of the O'Donnell family in Donegal, how Alpha-1 has affected their family, and the importance of getting tested.  A huge thank you to the Gormley and O'Donnell families for sharing their story, in particular to Anne Gormley and Orla Keane.  A selection of John O'Donnell's poems have been published in the book "Window to my World" and many copies were sold on the day.  If you would like to buy copies of this beautiful collection of poetry, do let us know.
The final speaker of the day was Eóin Durkan from the School of Health and Human Performance, Dublin City University (DCU).  Eóin is a PhD student in DCU in collaboration with the Alpha One Foundation and the Irish Research Council.  His research project is examining exercise as a treatment for lung disease caused by Alpha-1.  Eóin's goal is to set up an effective pulmonary rehabilitation programme tailored for people with Alpha-1.  He is a strong believer in exercise as medicine and passionate about the potential of exercise as a therapy for lung disease. After a day spent sitting down, Eóin's final few minutes of exercise got everyone moving, sweating and laughing.  If you wish to participate in this exciting new project or simply find out more, contact Eóin by email eoin.durkan@dcu.ie or call 01-7008470.
More photos from the conference are posted on our Facebook page https://www.facebook.com/Alpha-One-Foundation-Ireland-182604975133732/. A big thank you to all of our speakers who kindly took time out of their very busy schedules to come and present.  Thanks also to Orla Keane and Josephine McGuirk who helped out on the day with attendee registration and Christmas cards.  Thank you to A. Menarini who sponsored the conference with an unrestricted educational grant.  Finally, thanks to everyone who attended and for your feedback.  If anyone would like to suggest topics or ideas for next year's conference please let us know (telephone: 01-8093871 or email: alpha1@rcsi.ie).